TempCheck by Touchrate
Create a safe environment while providing peace of mind for associates and guests.
TempCheck Devices are being deployed by Touchrate to ensure people having access to an area or property are not running a high temperature. It provides alerts when a person runs a high temperature.
Two models to choose from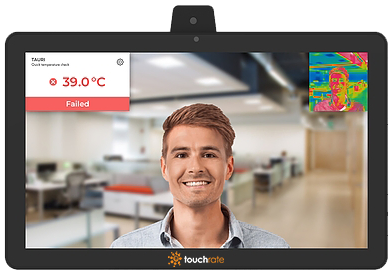 TempCheck Sentinel: Passive Screening
The TempCheck Sentinel is a passive no-contact temperature sensing system, scanning passersby.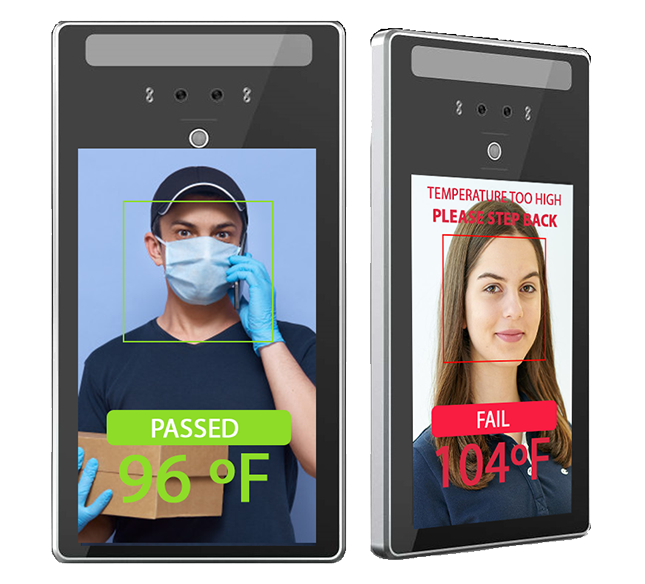 TempCheck Sentry: Active Screening
The TempCheckplus Sentry is a no-contact thermal imaging screening system, uses facial recognition and AI, with the ability to acknowledge Associates, Vendors, and Guests.
Want More Info?
Looking for more information and specifications on both models of the TempCheck system? We can send you the PDF!
Temperature Screening: Not Just A Fad
Amazon, which has been doing daily thermometer checks at its sprawling warehouses, is also rolling out thermal cameras "to create a more streamlined experience".
Tyson Foods installed walk-up temperature scanners at its sprawling meat-processing plants.
A McDonald's representative said the company bought no-contact infrared thermometers for all of its 14,000 U.S. fast-food joints and is "continuing to deliver these as supplies become available".
Home Depot said it has distributed no-touch thermometers to workers in stores and warehouses for pre-shift health checks and that any worker with a fever, coughing or shortness of breath is told to stay home.
At Walmart, workers sent home after a temperature check won't be able to return until they can prove they've been fever-free for at least three days.

4776 New Broad Street, Suite 250
Orlando, FL 32814
Copyright 2019 Touchrate LLC